AFN RÍO GRANDE NUMBER 8
us$ 8.80
In stock
Pay in

installments

with Mercado Pago
Read more

Buy now and pay in installments with no card later!
100% online, without paperwork or monthly fees
How does it work?
When paying, choose

Mercado Pago

. Login to your account or create one in a few steps.
Search for

Mercado Credito

among the options, select it and choose in how many installments you would like to pay.
Pay your installments monthly as you wish, in the Mercado Pago app.
SKU:

19458
Category: AFNRG
Related Products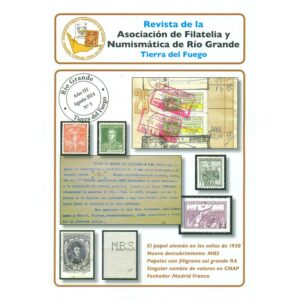 AFNRG REVISTA N° 5
ASOCIACION DE FILATELIA Y NUMISMATICA DE RIO GRANDE (TIERRA DEL FUEGO) – EL PAPEL ALEMAN EN LOS SELLOS DE 1930, NUEVO DESCUBRIMIENTO: MBS, PAPELES CON FILIGRANA SOL GRANDE RA, SINGULAR CAMBIO DE VALORES EN CNAP, FECHADOR MADRID FRANCO.
us$

8.80
Add to cart